muskityr_frontpage_slider
The MuSkITYR (MusculoSkeletal Interdisciplinary Translational Young Researchers) are a community organized by young scientists, supporting the next generation of musculoskeletal researchers. We are open to anyone interested in musculoskeletal research: students, doctoral candidates, postdocs. Established scientists are welcome to take part via a sponsoring membership. We promote networking among young scientists and support interdisciplinarity and translation in musculoskeletal research.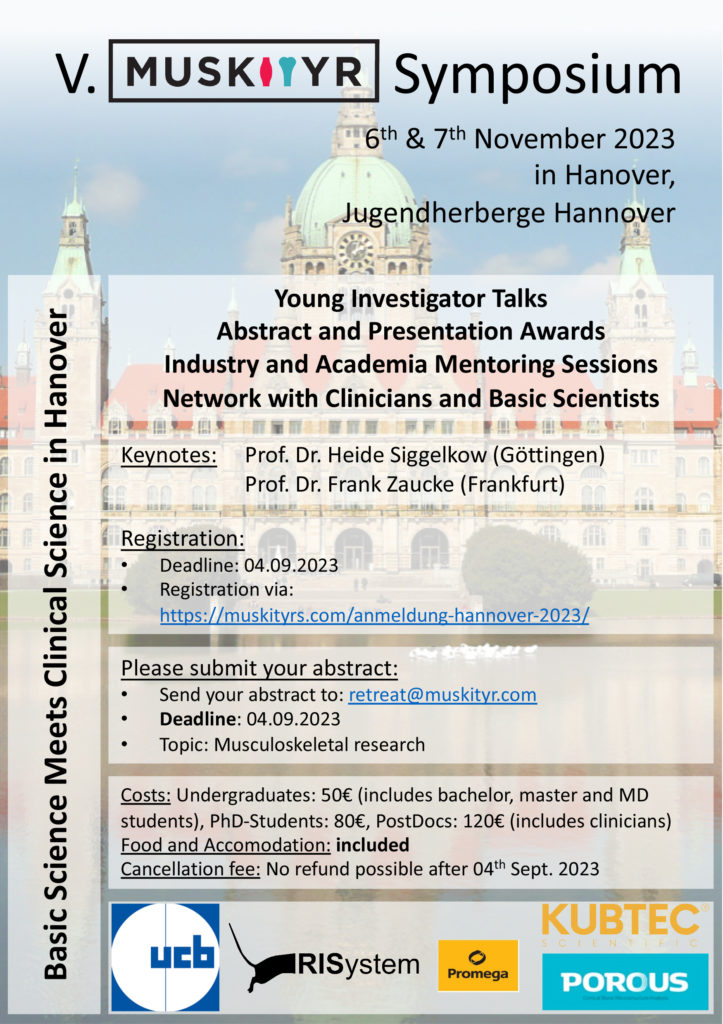 Our fifth own MuSkITYR Symposium will take place on November 6th and 7th, 2023 in Hanover.
Heide Siggelkow, expert in metabolic osteopathies and rare bone diseases from the Endokrinologikum Göttingen, and Frank Zaucke, head of the Dr. Rolf M. Schwiete from the research area for arthrosis at the Orthopedic University Clinic Friedrichsheim in Frankfurt/Main will give keynote lectures. All participants are cordially invited to submit their own abstracts. Presentation awards and an award for the best question await. In addition to exciting talks, the event will feature mentoring sessions and ample time for networking.
We look forward to seeing you again in Hanover!
Become a part of our network!
Kindly supported by AMGEN.

Kindly supported by UCB Pharma.
Kindly supported by Promega.
Kindly supported by PELO Biotech.