IV. MuSkITYR Symposium Awards
On November 9-10, 2022 we hosted our fourth MuSkITYR Symposium in Frankfurt/Main. We congratulate the winners of the best presentation awards:
Oliver Küppers, Institute of Orthopaedic Research and Biomechanics, University Medical Center Ulm
Omer Suljevic, Department of Orthopedics and Traumatology, Medical University of Graz
Daniela Mählich, Deutsche Sporthochschule Köln
Congratulations also to the winner of our best question award:
Sebastian Häusner, University Hospital of Wuerzburg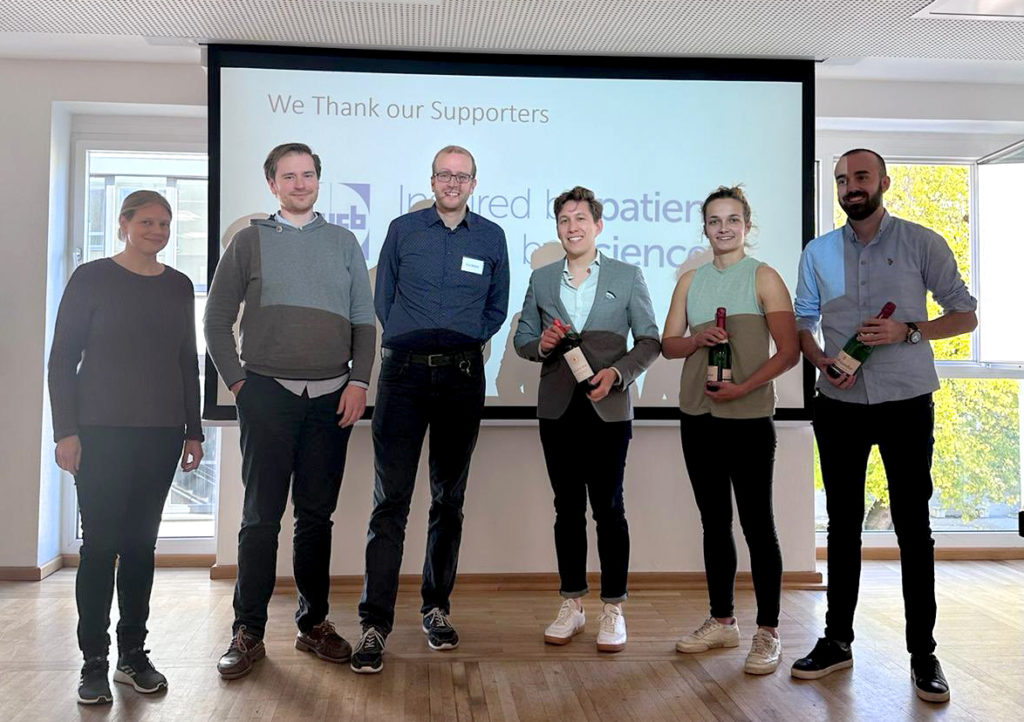 ---
MuSkITYR @Osteologie 2021
At the first virtual edition of our MuSkITYR symposium, the best basic and clinical presentation were honored and a "best question" price was awarded for the most active participation in the discussion. The awards went to:
Giulia Furesi, Dresden (Best presentation basic research)
Andreas Lipphaus, Bochum (Best presentation clinical research)
Kai Böker, Göttingen (Best question) We would like to thank all presenters for their great contributions and are looking forward to meet you soon again in person!
---
1st MuSkITYR Symposium Awards
On December 2 to 3, 2019, the 1st MuSkITYR symposium took place in the Reisensburg conference center in Günzburg. Big thanks to all the participants for their interesting presentations and the lively discussion! Congratulations to the award winners:
Zhiyao Yong (Best Abstract)
Kevin Paxian (Best Presentation)
Merle Stein (Best Question)
---
Osteologie 2019
At this year's Osteologie 2019 in Frankfurt am Main we had the opportunity to lead and organize our first own session at a MuSk-specific congress. The decision was not easy thanks to the high quality of the contributions and the wide range, which excellently showed which different questions are being dealt with under the umbrella of the MuSkITYRs and where there were points of contact for other members.
The following prizes, sponsored by AgNovos Healthcare and Amgen, went to:
Verena Fischer and Felix Schmidt (Best Presentation),
Miriam Tschaffon and Chiara Grabmann (Best Graphical Abstract),
Martin Kuric (Best question)
as well as Johannes Gleich and Alexander Keppler (Travel Grants).
---
MuSkITYR session at the DGE 2019
Chaired by Ann-Kristin Picke and Elena Tsourdi, 6 MuSkITYRs had the chance to present their work. The best abstract (Dominik Saul) and the best lecture (Elin Kahlert) each received prizes (provided by Shire).
---
Science meets Art 2018
Science is objective. Nevertheless, it repeatedly delivers pictures that are subjectively perceived as beautiful. We wanted to take this into account.
We are pleased to announce the winners of the "Science meets Art 2018" competition. We received 23 very inspiring submissions, which made the decision very difficult. Nevertheless, our three-person jury consisting of an artist, a clinical scientist and a basic scientist was able to identify and award the first three places.
We congratulate: Cornelia Schneider on first prize with her picture: "an eye opener"
We also congratulate Felix Schmidt on second place with his picture "Adlers Fittiche" and Heike Weidner on third place with her picture "Diamond".
The winners receive prize money sponsored by AMGEN.